Think more clearly. Be more productive.
Notabase is a powerful and easy-to-use note-taking app. Connect your ideas together and write more effortlessly.
Take better notes
Never lose context
Link your notes together to form your own, personal knowledge graph.
The more you write and link, the more powerful it gets.
Keep sight of the bigger picture. Never again have isolated, hard-to-find notes.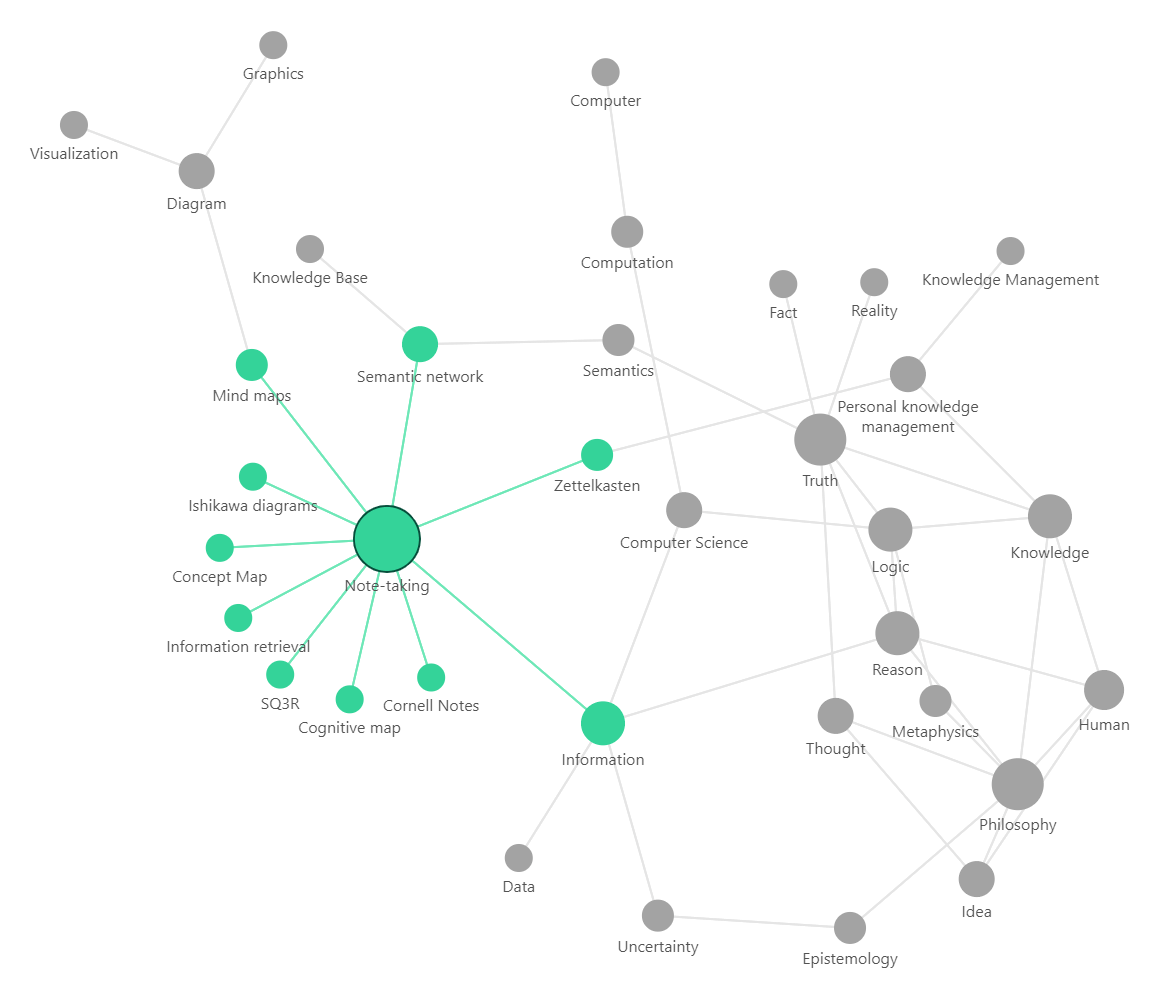 Organize the way you want
Organize your notes to suit the way you think.
Link your notes together and traverse them like webpages. Tag important topics and concepts. Drag and drop your notes to create your own hierarchy.
And for the little things that slip through the cracks, find them with our full-text search.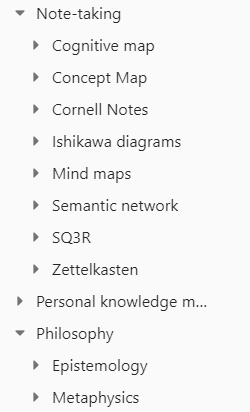 Focus and explore
When you want to write, the clean and intuitive interface lets you focus and get into flow.
When you want to reflect, stacked pages let you reference multiple notes at once and dive into rabbit holes.
Notabase makes both focus and exploration easy and delightful.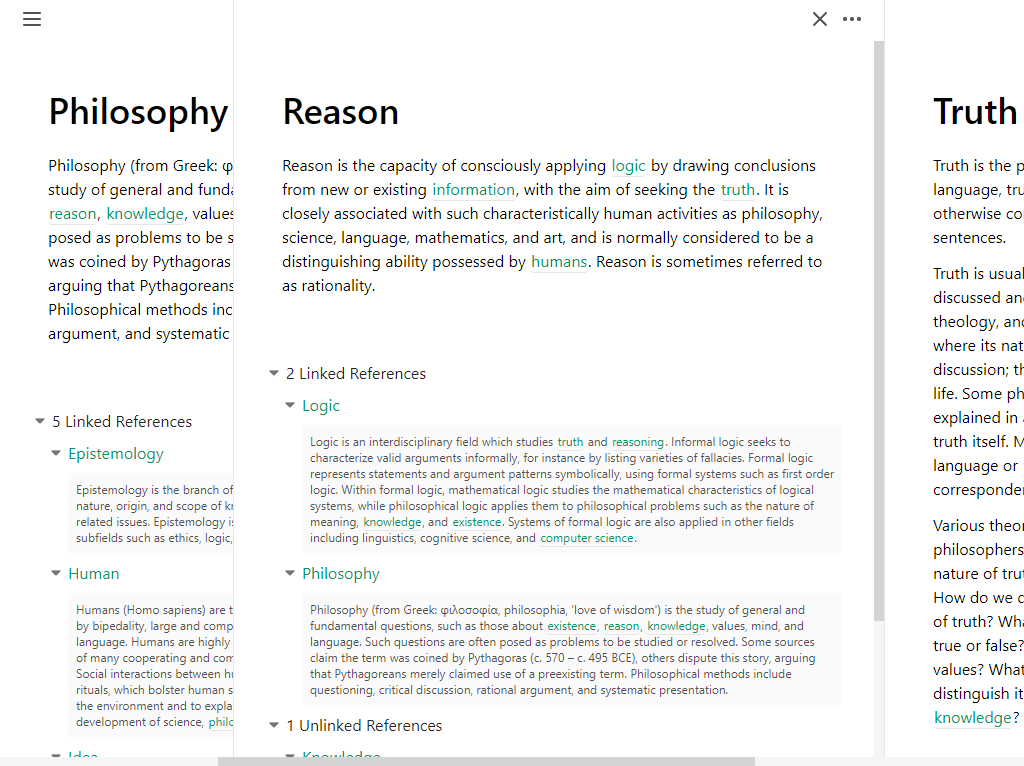 Open and transparent
Community
Join our open Discord community! You can give feedback, ask questions, or discuss note-taking strategies.
You own your data
You have full ownership over your notes and can export them at any time. We will never sell your data or use it for advertising.
Open source
Contribute to our development! Notabase is open source with a public roadmap.
What can you do with Notabase?
Build a personal knowledge base
Create a knowledge center that you can reference at any time, all of it interconnected just like in your brain.
Remember what you read
Take notes while you read, connect ideas with your existing knowledge, and synthesize everything.
Create a daily journal
Record your thoughts and feelings, keep track of your accomplishments, and reflect on each day.
Manage your projects
Create to-do lists, record institutional knowledge, write marketing copy, and plan for the future.
Make a help center*
Set up a help center for your product or company in minutes. No coding or design required.
*Coming soon with Notabase Publish
Pricing
Simple & straightforward pricing
Monthly
Annual

2 months free!
Try it out for free

100 notes

5 MB image uploads

Community support
Everything in Basic, plus:

Unlimited notes

20 MB image uploads

Publishing to the web (coming soon)

Community and email support
FAQ
Can I try Notabase for free?
Yes, just sign up with the Basic plan and you can try out Notabase for free for an unlimited amount of time.
Do I need a credit card to sign up?
You can sign up for Notabase and use the Basic plan without a credit card.
Can I cancel at any time?
Yes, you can cancel your subscription at any time. You'll continue to have access for the remainder of your billing period.
How do I subscribe?
Sign up for an account and log in. Click on "Notabase" in the sidebar, then "Settings & Billing". From there, select "Billing" in the sidebar and click "Upgrade" underneath the plan you want.
What happens if I reach 100 notes on the Basic plan?
Once you reach 100 notes on the Basic plan, you won't be able to create any more notes and will be asked to upgrade. You will still be able to browse your notes, export them, and use all functionality that doesn't involve creating notes.
What happens if I switch between the monthly and annual plans?
You'll receive a prorated credit for the time remaining on your current plan and be billed for the new plan.
What if I still have questions?
Feel free to email us and we'll get back to you as soon as possible.
People 💚 Notabase
"This is great for beginners and those who are not so techie because of it's simple, minimalist and no-frills design."
"I can't believe you single-handedly built this beautiful app. Great job brother! It's really snappy!"
"Migrant here—have gone through almost all the apps out there, most recently Roam / Craft / Mem / Obsidian. Strangely, even just an hour or so in, I'm getting a sense Notabase is already fulfilling a lot of what I'm looking for: OS interoperability; Markdown exports; clean UI. All of those other apps have faltered in one way or another."
"Just tested this application today, love how clean it looks!"
"Looks neat, fresh, and clean. Love minimalist style."
Think more clearly. Be more productive.
Start taking better notes today.